Eiger Nordwand
Eiger Nordwand from caroline george on Vimeo.
While growing up, I had heard of the infamous Eiger North Face, but I'll confess, it was mostly just some mythical mountain that I knew nothing about.  While in college I remember a friend telling me they had visited Switzerland and looked "down" on this face (presumably from the tunnel window).  Being a climber I casually mentioned how I wanted to go climb that one day – still knowing nothing of what my statement entailed.  I was quickly told it was impossible and I would never be able to do it… "You don't understand", exclaimed my friend there is rock, snow, ice, even waterfalls on this face it is just unclimbable.  That was all I needed, while I nodded in agreement this was a challenge I couldn't ignore and in my mind it was settled –  I would go climb the Eiger North Face someday.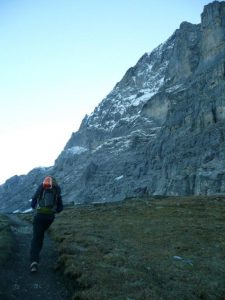 Three and a half years ago a friend and I flew to Switzerland to attempt the Eiger.  We had heard the conditions were great, so we bought last minute plane tickets and set off.  As it turned out, the conditions "were" great , but it had been snowing non-stop for nearly three weeks now and conditions were no longer good. While we did start  the climb, our attempt was short lived.  We were turned around only an hour into our climb by deep unconsolidated snow, but nonetheless, the hook had been set and for the past three  and a half years this face has always occupied a place somewhere in the back of my mind.
Since my first attempt, I have read a lot of the classic litterature written about the face, seen the recent movies produced about the mountain and to top it off, even kept a link on my favorites page to the North Face webcam.  I guess to some degree I was getting a little obsessive about this climb.  I had spent plenty of time in Europe over the past few years, but this climb seemed to always elude me – good conditions, but no time to climb (or vise versa), bad weather, or no partner.   I had even guided the Eiger on a couple of occasions via different ridges, but there was always something keeping me from a second try at the North Face.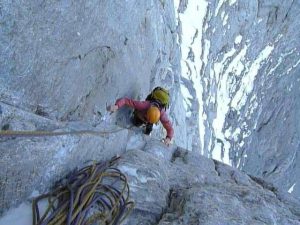 Last week however, I got my chance.  I had time off, was well acclimatized and fit after a summer of guiding, the weather looked perfect, and a call to Grindelwald revealed the conditions looked great – although nobody had been up there to confirm.  I was able to convince a fellow American guide and friend of mine, Tim Connelly, to head over and have a go.  I'll admit, I wasn't entirely optimistic and even brought an extra bag along with some sport climbing gear just in case we got shut down.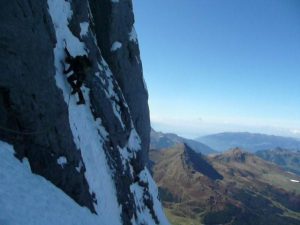 We left Chamonix at 4am with plans to catch the first train and exit  just before the train enters the famous Eiger tunnel.  From this position it is an easy 30 minute approach and your standing at the base of  perhaps the largest face in Europe.  We planned on the climbing the  1938 first ascent route in two days spending a night at the infamous "Death Bivouac".  Despite some wrong turns on our drive to Grindelwald, we managed to catch the first train at around 7:30 and we were on our way.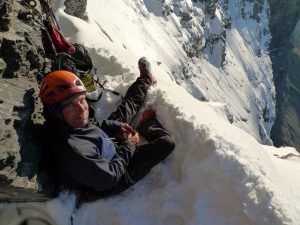 If  I could describe the route in one word I would have to call it an Odyssey.  Upon hiking to the base you are greeted with a couple of memorial plaques – not the most comforting of omens – and thus the journey begins.  The route finding initially is very tricky and you meander through lines of weakness up some improbable looking terrain.  Initially the rock was dry but quickly snow and ice appeared on ledges and we were forced to wear crampons.  The first landmark on the route is the "Difficult Crack," but arriving here wasn't as straight forward as we had hoped.  In fact, we did quite a bit of climbing just to arrive at this feature and some of it seemed even "more difficult"…?
From here the route finding becomes more straight forward – even more so considering there were teams in front of us putting a track in the snow – and we progressed upwards almost as if climbing back through history.  We passed many of the  famous pitches and landmarks including: the Hinterstoisser Traverse, First snow field,the Swallows Nest, the Ice Hose, second snow field and then finally arriving at the Death Bivouac.  We enjoyed excellent conditions on the face and the climbing was never too difficult and we covered a lot of ground.
The night we spent on the face was very special for me and something I will remember for a long time.  Spending a night on one of the most historic faces in the world complete with all the triumph and tragedy associated with it, was a very touching experience.  The weather was perfect and we watched a great sunset, ate some soup and slept at one of the best bivy spots I have ever enjoyed.
The second day began with a traverse into the Ramp where the real climbing began.  We did several pitches up this feature  involving a lot of  mixed climbing, awkward squeezes and some pretty scrappy ice climbing.  This section of the climb reminded me of Colorado's well known ice climb "Bird Brain Boulevard," except this was really just the start of our day.  Next we climbed up through the Brittle Ledges and Brittle crack to the notorious "Traverse of the Gods."  I had heard a lot about this section of the route and I'll be honest I was a bit nervous about this part of the climb -a 150m snow and rock traverse which is offers tons of exposure and very little in the way of protection.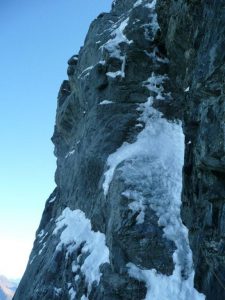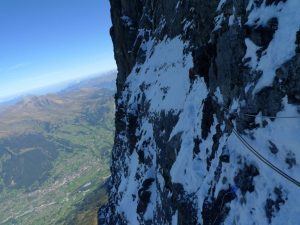 Luckily this section, while exciting, was never very difficult and allowed us relatively quick passage to the famous "white spider" and finally the exit cracks.  Again, the upper part of the route has a reputation for some difficult climbing and we were not let down.  The "Quartz crack," while short, proved to be quite a challenge – rock climbing, ice climbing, dry-tooling even a little aid all used in about 20 feet – you gotta love alpine climbing.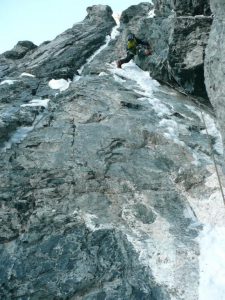 Upon exiting the "Exit cracks" you are soon on the upper snowfields, which take you to the Mitteleggi ridge and then to the summit.  The final summit ridge is quite spectacular and certainly one of the most beautiful sections of ridge found anywhere in the Alps.  We spent some time on the summit taking in the view and taking in the route we had just done.  The Eiger is home to so much history and after climbing the face, following in the footsteps of so many legends,  it's hard not to feel in some small way like part of the history yourself.  While I will never know what it was like to climb this route in 1938, I'll be forever humbled by the courage, determination and talent displayed by its first ascent team.  This is a roue that has stood the test of time and a climb that I will never forget!