Reflecting on rapidly changing glaciers in the Alps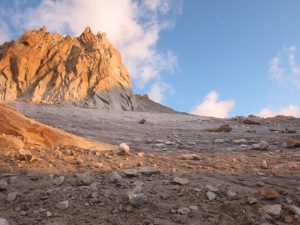 Summer in the Alps went from being inexistent to full blast. It's the hottest month of August in years. I am grateful for this spell of beautiful weather myself, but after this past few days in the mountains, I realize that glaciers aren't as happy as me. They are downright hurting.
I just had an amazing week with my client, Michele. Michele is a well-rounded climber who goes out climbing on her own (as in, without a guide), both on rock and ice and has climbed all over the world. She's been to destinations I still dream about going to myself. After a week of hiking to acclimate around Chamonix, she was ready for our trip into the mountains. Since I hadn't climbed with her before, we headed to the Albert 1er hut the first day to climb a moderate ridge to the summit of the Aiguille du Tour, a peak which sits on the border to France and Switzerland. Upon reaching the hut, though, I wondered where the glacier had gone. The last time I'd been there was in 2002, and the glacier was minutes from the hut. I blamed it on my bad recollection of the area but a fellow guide confirmed that the glacier had just shrunk drastically.
After a beautiful climb up the Arête de la Table (called as such because a flat rock somehow sits on the ridge and you have to climb around and then on top of it) to the summit of the Aiguille du Tour, we returned to Chamonix. We spent the following days climbing perfect granite on the Aiguille du Peigne's Papillons Ridge and ice on the Goulotte Chéré followed by the classic Cosmiques Ridge. We then headed over to Switzerland to spend three days climbing around the Trient Hut, located on the Swiss side of the Mont Blanc Range. Although I had hiked up to that hut earlier this summer, it was still early and the snow hadn't fully melted off so I wasn't as shocked as now.
I first came to this area in 1996 with my parents to climb a route right above the glacier. We had stayed at the Orny Hut, just an hour down valley form the Trient Hut. From there, we hiked a few minutes to reach the nearby glacier and hiked on it to reach the climb. Nowadays, you couldn't even imagine doing that. The glacier is 150m below the hut and nowhere on the way to that climb anymore. Five years ago, the glacier in that area was still fully an accumulation zone, but now, it's turned to an ablation zone, leaving very little time for this glacier to survive.
After a nice night of sleep at the newly guarded Trient hut with Michele, and the most amazing vegetable curry cinnamon (yes, cinnamon) soup I have ever eaten, we headed out the door at 5 a.m. for our climb, the south ridge of the Aiguille Sans Nom (Nameless Tower), a beautiful line up perfect orange granite. This area is a little remote and both times I was back there this summer, I didn't see anyone! A treat! We hiked up the Trient glacier to the Col des Plines and headed down into a wind scoop to come out at the pass. I expected the backside to be fully covered in snow, as it had been when I was there five years earlier. But instead we found scree and very loose terrain, leading to a totally dry glacier. I couldn't believe it. Poor Michele, she had to listen to me repeat over and over how different it was this time around, just like an old woman saying: "Back in the days…"
It didn't stop us from having an amazing climb up perfect granite to the summit of the Aiguille Sans Nom, followed by some ridge climbing down the easterly ridge of the Aiguilles Dorées (Golden Needles) and some rappels back to the Trient glacier. We had an amazing week with great weather and I was in great company with Michele. Yet, I can't brush off the images of the once-huge glacier that I knew and wonder how much longer it will be around for us to see and marvel at. We used to look at pictures from the 1920s to see how much glaciers had shrunk. But now you just need five years time to no longer recognize a location you thought you knew. I don't have a solution, of course, but this was a reality check I thought I should share.
[nggallery id=18]