Japan Dreams
Japan and skiing. These are two words I had never associated. I pictured Japan as the land of electronics, cheaper cars, bustling Tokyo, and fast-paced life. My image of mountains and Japan was really limited to that of the most photographed summit in the world: Mount Fuji. But I really imagined it as a stand-alone volcano lost in the ever flat land of the rising sun, imagining it was so popular because it was the only snow covered mountain in the country. Think. Again.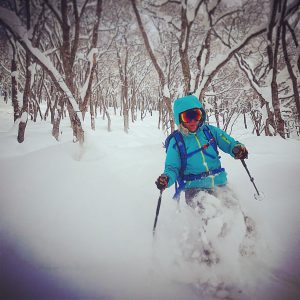 Japan is no less than the place on earth that gets the most precipitation a year! By the time we arrived in Japan in early February, they had gotten a cumulative of 12 meters of snow, having to shovel the snow from under the chairlifts for the chair to be able to go up. With no foot rest on these chair lifts, we had to watch out that we didn't get our tips caught in the snow by pointing them to the sky on the ride up to the goods; goods that came in the shape of perfect dry and light and deep powder; the kind that you really truly keep a scuba for, or at least a helmet in case a tree stands in your way as you emerge from yet another cloud of powder. Despite having lived in "Best Snow on Earth" Utah for a few years, I had never experienced snow this… perfect!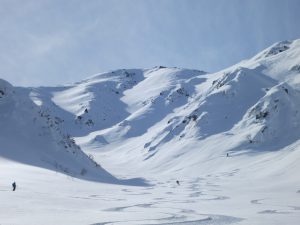 Turns out, Japan has become quite the ski touring destination over the past few years. Though it may have been popular for a while now, pictures of deep pillows, face shots, perfectly spaced trees, spines, etc. posted through social media have turned Japan into a real mecca for early season powder slaying and powder lovers. And we could no longer ignore it. When Ian, a client Adam had the previous summer in Chamonix, told him he lived in Tokyo, ran the "Le Bocage" cottages in Hakuba, a little town home to no less than 7 ski resorts. His offer to stay at one of the cottage and lending us his car pretty much sealed the deal: we bought the tickets the following day. This would be our first real ski trip and our first one week trip together without Olivia. Sad and exciting.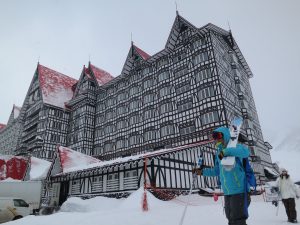 After a 6 week dry spell in the Alps in January, we were "blessed" with the storm of the season during the two days prior to departure, making it logistically challenging to actually leave. We had to drive Olivia over two passes and up another valley to where my parents live to drop her off. But the passes were completely snowed in and that afternoon, one of the chains exploded and being sunday, all the shops were closed to buy new ones. My mom had to drive down to get us as the access to our village, Leysin, was closed to all cars without chains or 4WD. It snowed 30cm overnight, we got plowed in by the snowplow and had to shovel our cars out with our avalanche shovel. We then got stuck in traffic on our way to the airport and we were greeted by strike at the airport, which delayed our flight and though we made our connection in Amsterdam to Tokyo, our bags didn't. With so few days in Japan, every day mattered. The airline paid for our hotel, so we waiting for a our luggage to show up and headed into Tokyo to meet our hosts, Ian and Sayaka. They took us to one of the little local restaurant on the harbor that seemed only known to locals and where I ate some of the best fish of my life. As much as I love skiing and climbing, I am a total foodie at heart and discovering little secret spots create memories in my soul as unforgettable as any mountains.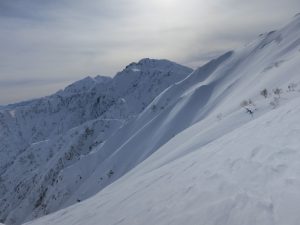 The following morning, we picked up our luggage at the airport and boarded the "Shinkansen" train to Tokyo and then onto Nagano where Ian's car was waiting for us and drove on to Hakuba. Our goal on this trip was to recon the area to come back with guests the following year. Though we are used to on sighting terrain, Japan was a whole different challenge, mainly because we can neither speak or read the language, and all the maps are well, written in Japanese. So when Ian would recommend we do this or that tour, we couldn't match what he said to a name on the map. So instead, we just needed to look at the terrain and guesstimate that the terrain looked good in one place and go check it out. Each day was an adventure of figuring out where to go, what to ski, how to drive there, what ski passes to buy, etc. This more than anything is what I love about my job: discovering new places, figuring it out on the spot, making the unknown known, and always looking at my surrounding through the lens of what would make this experience more unique than any other before, for me and for clients. The terrain in Hakuba is some of the best terrain I have skied with lift access to back country ski touring. What is that? well, we would ride to the highest lift at each resort and then ski tour from there to access back country ski tours and beautiful long lines back to the resort with wide open bowls, Alaskan style spines, perfectly spaced trees for bad weather days and always perfect blower powder.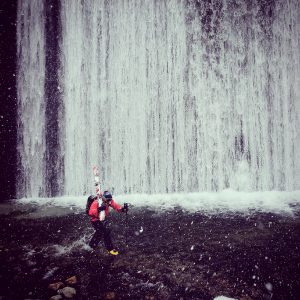 But what I loved as much as skiing in our adventure in Japan was the cultural aspect of our trip. Most nights, after a long day in the cold, we would walk to one of the many Onsens – indoor or outdoor natural hot springs – in Hakuba. Onsens are to Japanese people what saunas are to Scandinavian countries. I loved seeing the strict ritual people go through prior to actually getting into the Onsens, washing themselves thoroughly for a long stretch of time, sitting on a little plastic stool, using all sorts of productrs to wash out any impurities it seemed. . And I really took to this tradition as I loved how integrated it is in the culture: the whole Onsen experience is the norm for Japanese people, and not just something you treat yourself to; it is a way to be respectful of your body and of others.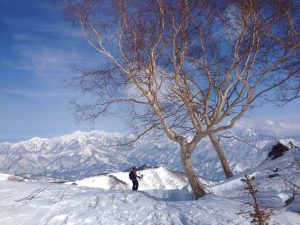 With Ian and Sayaka around for part of the time, they showed us their favorite restaurants in town and Sayaka ordered for us a variety of traditional food, all tastier the one than the other. For the foodie that I am, this was a real journey into the sensory world, seeing, tasting, smelling and even touching food preparations I had never heard of before.
Japan was by far and away the most rich and varied ski trip I have ever taken. It blew all my preconception to pieces, replacing them with that of amazing sceneries, snow, food, people and overall culture. We didn't really know what to expect going there, but as we flew away, we knew one thing: we would be back.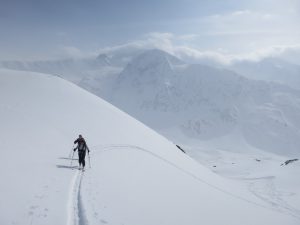 Adam, Caroline and Olivia will be back in Japan, January 2016. Book us now. Limited space: https://intothemountains.com/trips/ski-japan-2016/