Bozeman Ice Festival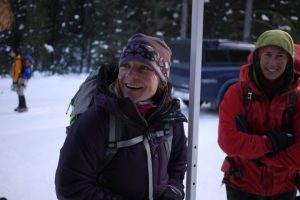 For the past three years, the Bozeman Ice Festival has marked the beginning of my winter season. I say goodbye to warm sun and rock, climbing slippers and tank tops and trade it all in for big boots, crampons, axes and of course, snow and ice. My husband, Adam, and I arrived a little early to to reconnect with the feeling of standing on front points and swing tools into frozen waterfalls. Although the idea of standing in the cold all day is never that appealing at the start of the season, the magic of reconnecting with the ice instantaneously makes me forget about the pain of screaming barfies and a shivering body. This year though, the transition wasn't as brutal as previous years when I would partake in the Icebreaker –  a competition where we would run at least as much as we would ice climb, trying to hit three areas in the canyon, having lots of fun in the process, crossing paths with fellow competitors and trying to earn the most points by the end of the day.
The Icebreaker competition was cancelled because of a fatality that occurred in the canyon during the Icebreaker last year, when world renown ice climber Guy Lacelle was taken by a small avalanche and fell 500ft to his death. This was such a big loss for the community: we was not only an amazing climber, but one of a few people who really stuck to their life values. This event really scarred me because it was then that for the first time I came across a dead body in the mountains and with that, I wasn't sure that I would return to the event. I didn't really care to revisit the canyon, relive those moments, and was afraid of how it would affect me. But I am glad I came back.
The athletes gathered wednesday night at the Northern Lights Store to talk about the event, talk about what each had done throughout the year, how conditions were in the canyon, etc. It was so nice to see many familiar and friendly faces. I am always comforted by the sense of belonging to this amazing community of people who live for this mutual passion. Joe Josephson – the organizer – was as enthusiastic as ever, making us all feel welcome. JoJo has traveled the world in search of new ice climbs his whole life, wrote guidebooks to the Canadian Rockies and to Montana, and his unconditional love for this activity combined with his permanent smile are contagious.
The official start to the event was Thursday. Local climber taught clinics while I went climbing with Adam above Genesis 2, an area located straight above the parking lot. We had heard of a new bolted route being put up, so we headed that way. As often during busy events, the route was taken so we decided to explore a little and Adam found a fun looking line: it started up a chossy crack of bad conglomerate, reached a smear of ice, continued further up the crack to 40 ft of vertical and very brittle ice. Finding a First Ascent in such a well travelled area always feels like you found that precious hidden gem. Climbing it involved eating a lot of dirt and breaking a lot of ice but it was steep enough that we were pretty pumped from climbing it. A perfect mix. We then went back down to the line that was previously busy and got to climb it in the warmth of the late afternoon sun. We ended the day with a nice warm meal in town to refuel for the following day's clinics.
The Bozeman Ice Festival is the only event to host a full day of all women's clinics, taught by women guides. I was working with Mattie Sheafor from Jackson Hole whom I'd worked with at Chicks with Picks this year. We arrived early in the morning to a parking lot full of very motivated and excited women, standing in the falling snow with their packs on and ready to go before we had even left the warmth of our car. This surge of energy is better than any double shot of coffee in the morning. Our clinic was introduction to leading and multipitch efficiency on ice. To make sure that everyone's expectations are meant, I always ask what those are. Mostly, our ladies wanted to be more self reliant, more efficient on ice, be able to place screws and take them out properly and build anchors. So that's what we worked on all day. While some were climbing and working on their "triangle" – aka, swinging one tool up and two feet below in line with the ice axe to form a triangle, which is the most efficient way to climb ice -, others were learning how to place a screw, build an anchor, make V-threads and multipitch efficiency. Despite strong winds blowing the snow in all direction, the psych was high and time flew by. I get so much out of days like these: seeing people learn, improve and wanting to get the most out of the day makes my job so rewarding. We wrapped up the day with a hot mint liquored coco at the parking lot and huge platter of cheese. Yum! The little details, the little treats is what makes this event so special.
Clinics went on through the rest of the week-end. With a busy schedule ahead, I wanted to take advantage of my time in Hyalite canyon to climb for myself and to spend some time with friends that I don't get to see very often. Audrey Gariepy is one of them. She lives in Quebec and travels the world climbing and plants trees in the summer. Our paths only cross at ice climbing events it seems. We did a trip together to Canadian Rockies's Icefall Brooke a few years back and I hope we will get to do another trip someday. She is one of those happy people that I really enjoy spending time with. On saturday, we hiked deep into Hyalite Canyon to climb Cleopatra's Needle, a WI5/120m route which was in easier condition this year. The 1.5hour hike in went by fast because we chatted so much. Luckily, no one was on the climb when we arrived so we had it all to ourselves. Great climbing! As we rappelled another party was starting up. We thought we would climb some more, somewhere else, but instead we decided to watch these guy try to climb a nearby route called Airborn Ranger – a long pilar which was barely  touching down. The guy made two moves and went airborn on Airborn Ranger! Ouch!
The following day was really warm. Majka Burhardt, Pete Doucette and I tried to go ice climbing, but traveling on snow had become heinous  so we bailed and went jeans shopping instead! Love it!
Each night, we regrouped at the Emerson Center to watch slideshows by Will Gadd, Emily Stifler, Jason Thompson, Jim Shimberg and a beautiful heartfelt movie by Chris Alstrin who did an amazing job capturing who Guy Lacelle really was. It was inspiring to watch and so humbling to revisit with this amazing man. It felt like coming full circle with last year's event. He is gone, but thanks to this beautiful tribute, he is immortalized in all of our hearts.
The 15th edition of the Bozeman Ice Festival was the best I have attended yet. The atmosphere was a lot more relaxed without the competition and we were all there to share in a passion and remember a man who'd inspired us all in one way or another. I left with a smile on my face and full of gratitude to reconnect with friends and meet new ones from all horizons. Thanks to all the people who made it happen. Will be back!
View photos here: http://www.facebook.com/pages/Bozeman-Ice-Climbing-Festival/182780536740#!/pages/Bozeman-Ice-Climbing-Festival/182780536740?v=photos
Thanks to First Ascent and Petzl for sending me there!